Forklift
Professional forklift supplier.
JAC FORKLIFT is a division of the JAC Motor Group (Anhui Province, China). Founded more than 10 years ago, JAC FORKLIFT has an annual production capacity of 20,000 units, and in terms of sales, the company ranks 3rd among Chinese manufacturers of this product. JAC FORKLIT is the only Chinese manufacturer that has its own high-quality engine.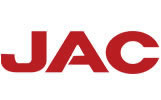 We are a dealer of JAC forklifts. Feel free to contact us for a nice machine chat.
Glenn Pedersen, CEO
Phone: +47 901 15 793